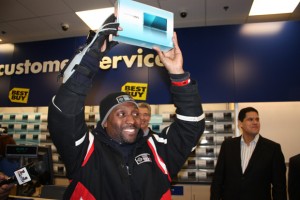 Nintendo and Best Buy seem to be continuing their partnership for 3DS marketing, as consumers will be able to use select Best Buy locations as hot spots for their 3DS starting June 7. In addition to providing a wireless connection, Best Buy will also play host to exclusive content available for Nintendo's newest handheld. Such content will include gaming extras, movie trailers, and access to the new SpotPass feature.
"We want our customers to fully tap into the potential of their Nintendo 3DS device, so we're pleased to offer free access to special Wi-Fi and SpotPass content in-store," said Best Buy Senior VP of Entertainment Chris Homeister. "As a retail partner for SpotPass, this is another way that we're delivering best-in-class gaming experiences at our stores across the country."
June 7 is also the first day of E3. So who knows what surprises Nintendo will have planned for this event.
Best Buy has gone pretty hard to be your favorite game retailer over the last few years, especially since releasing their @Gamer magazine which you can read about in our feature about the state of print game magazines.