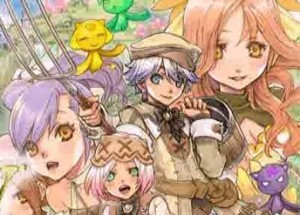 With so many RPG series' going portable, it's great to see one coming to new home consoles. Rune Factory: Tides of Destiny, released as Rune Factory: Oceans in Japan, will be released on the PlayStation 3 and Nintendo Wii in North America later this year. The first official details will be unveiled during E3 from June 7th to 9th.
This marks the first Rune Factory title (and Harvest Moon affiliated game, for that matter) to be released on the PlayStation 3. As it's also coming for Wii, the game will have full PlayStation Move compatibility. In addition to three titles on the DS, Rune Factory: Frontier was released on the Wii in 2009.
I had no idea if this game was going to get an English release and I'm particularly overjoyed to see it coming. The original Rune Factory was one of my first and favorite Nintendo DS titles, so let's hope this one doesn't disappoint. You can check out the Japanese website, with some cool music, here. Also, be on the lookout for Harvest Moon: A Tale of Two Towns coming this summer to Nintendo DS and 3DS.