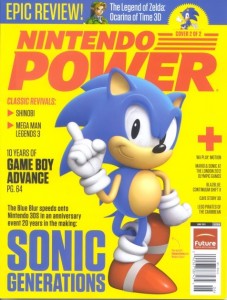 The tireless sleuths at NeoGAF have uncovered the very interesting cover to the June 2011 issue of Nintendo Power (click the image to enlarge it).
After you get over the weirdness of seeing Sonic on the cover of Nintendo Power (I know Sonic games have been on Nintendo systems for a long time, but it's still weird), you'll see that the magazine confirms that Sonic Generations and a Shinobi revival are in development for the 3DS.
Sega was probably planning to make these announcements at E3 as the magazine will likely land on subscriber's doorsteps after the game expo.