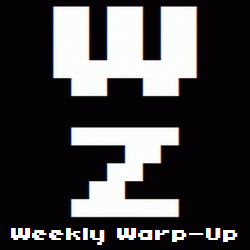 No, that's not a typo. Welcome to the Weekly Warp-Up, your weekly wrap-up of the biggest and the best articles posted at Warp Zoned this week…
Get Warp Zoned!
May Day! May Day! It's May Day! To celebrate the beginning of a new month, the Warp Zoned editors looked back on what we played in April in the latest installment of Warpback.
But this week was also a "mayday" for PlayStation Network users as Sony's investigation into the outage turned up some bad news. On Monday, Sony announced that they were analyzing the extent of the damage and were unsure if credit card data had been compromised. On Tuesday, the analysis was complete and all hell broke loose. Sony admitted that hackers had stolen names, addresses, passwords, everything. OK, not everything, your credit card information only "may" have been stolen. Thanks Sony! On Wednesday, the gamemaker swore they didn't know the extent of the compromised data until they announced it on Tuesday, but that wasn't good enough for one US senator, who had some harsh words for Sony. Maybe he'll get his wish as the company was investigating a "goodwill gesture" for affected PSN users on Friday. Finally, just today, Sony revealed that the PSN would be back online next week.
But this week wasn't all doom and gloom… we did post Episode 9 of the Warp Zoned Podcast after all. Mike Gutierrez, Nicole Kline, and Ryan Littlefield waxed poetical on all the games they've been playing. Afterwards, they were joined by West Coast Editor Adam Woolcott for a round table discussion about sequels. We also dived into the Gears of War 3 beta and declared it awesome.
Finally, our LittleBigPlanet 2 contest is winding down. A winner will be picked on Monday, so there's still time to enter!
Hit the jump for the rest of the Weekly Warp-Up.
The Week in Reviews…
The Week in New Games…
Amazing Paperboy Delivers…
It's a Secret to Everybody…
And Finally…
Mortal Kombat: Legacy continues with Johnny Cage (and an awesome Ed Boon cameo!).