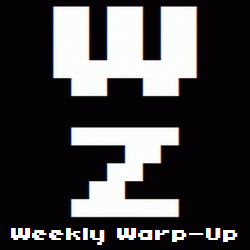 No, that's not a typo. Welcome to the Weekly Warp-Up, your weekly wrap-up of the biggest and the best articles posted at Warp Zoned this week…
Get Warp Zoned!
I'll make this week's Weekly Warp-Up quick as the PSN is back online!
Yes, Sony's online service has been restored and online play, chat and third-party services like Netflix are all up and running. The PlayStation Store remains down for the time being. It's been a hard road to bring the PSN back online and a Sony Japan spokesman actually said the company was targeting May 31st for a complete restoration of the service. Thankfully, things were able to come back online piecemeal. The company even kept it's promise of "a few more days" that it made on the 10th.
As if that wasn't good enough news, we've also got a new episode of the Warp Zoned Podcast for you this week. Mike Gutierrez, Nicole Kline, and Ryan Littlefield are joined by a very special guest – contributing writer Brianne Galli! The foursome start off by discussing what they're playing, and I'm sure no one is surprised at this point to find out that the answer is "Pokemon!" They also talk about Nintendo's successful handheld, the DS, and how the different iterations have stood up to the test of time – from the clunky original all the way up to the shiny new 3DS. You'll laugh, you'll cry, you'll want to buy Radiant Historia when you listen to this week's Warp Zoned Podcast!
But due to the PSN outage, we may have gone a little mad as this week we analyzed Christina Perri's "Jar of Hearts" and found that the pop singer was totally singing about Mortal Kombat!
Hit the jump for the rest of the Weekly Warp-Up.
The Week in Reviews…
The Week in New Games…
Amazing Paperboy Delivers…
It's a Secret to Everybody…
And Finally…
The government has declared games to be art. Suck it, Ebert!