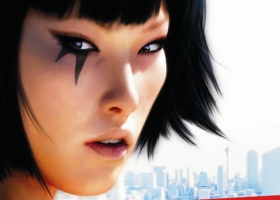 Frank Gibeau, the President of Electronic Arts, sat down with GameTrailers TV during E3 and dropped a bombshell: the company is actively looking into Mirror's Edge 2! While he doesn't confirm development on the sequel, he very strongly hinted that the game is already in the works.
When asked if we'd ever see the Mirror's Edge franchise married to DICE's new Frostbite 2 engine, Gibeau responded "You'll see that combination, I'm sure." He continued talking and dropped more hints about Faith's return, saying that it'd require a "big idea:"
"We haven't killed Mirror's Edge. We're actively looking at how to bring it back in the right way. We love that franchise. The DICE guys really created something I think special the first time around. You've got to have a big idea to be able to do the next one and that's what we're working on," he said.
While not a confirmation, it sounds like we got a sneak peak at E3 2012.