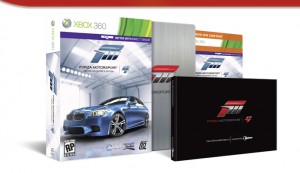 Forza Motorsport 4 is coming October 11, and Microsoft has announced the Limited Collector's Edition for the most diehard fans of the franchise.
In addition to the "Ship Bonus" car pack exclusively for pre-orders, a "VIP Car Pack" will net you another five additional cars. You'll also get ten unannounced American classic muscle cars, as well as a custom designed BMW from the "Forza Motorsport 4 BMW Design Challenge." The 2012 BMW M5 will also be available in the bundle, with a downloadable theme featuring the car and special recognition in lobbies and leaderboards. As far as tangible goods, you'll get a host of stickers and a 96 page art book, "Cars of Motorsport 4 Presented by Top Gear."
Head over to the official page for full details.