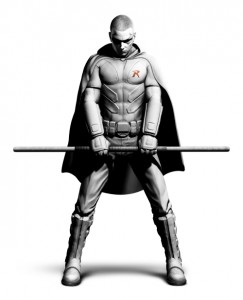 Batman and Catwoman won't be the only playable characters in this October's Batman: Arkham City. Robin, The Boy Wonder, will be swinging into the game as well.
Gamers who pre-order Batman: Arkham City from Best Buy (on the PC, PS3 or Xbox 360) will receive exclusive access to the Tim Drake Robin Pack. WB Games had this to say about Robin:
"Robin will come complete with his own unique gadgets and special moves, and will be playable in all challenge maps in the game, as well as two additional challenge maps that are included with the pack – Black Mask Hideout and Freight Train Escape. The pack will also contain a bonus Red Robin character skin."
So it looks like it'll work exactly the same as the Joker Challenge Maps that were included with the GameStop pre-order of Batman: Arkham Asylum.