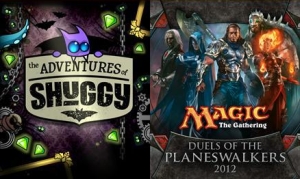 After two weeks without an Xbox Live Arcade update, Microsoft will add two games to the XBLA tomorrow.
The new additions include Valcon's puzzle platformer The Adventures of Shuggy and the collectible card game Magic: The Gathering – Duels of the Planeswalkers 2012. Both games will be priced at 800 Microsoft Points ($10) each.
You can find more information about both titles after the break.
The Adventures of Shuggy
Developer: Smudged Cat Games
Publisher: Valcon Games
Shuggy has just inherited a castle full of goblins, ghouls, zombies, and robots. Help him clear out over 100 rooms to make his new home liveable again! Every room in the castle is different, letting Shuggy fly, float, swing, spin, change size, and more as he explores the Dungeon, Boiler, Clocktower, Gallery, and Graveyard. Play an online match full of power-ups as Shuggy or one of his quirky relatives, and try to collect more gems than your opponent. Play 36 twisted two-player levels in the offline co-op mode, with puzzles that can only be completed through cunning and teamwork.
Magic: The Gathering – Duels of the Planeswalkers 2012
Developer: Wizards of the Coast / Stainless Games
Publisher: Xbox Live Arcade
All-new and redesigned, Magic: The Gathering – Duels of the Planeswalkers 2012 takes last year's massive hit game to even greater heights with better graphics, more options, and new challenges! Face off against the AI, or gather your allies for the new multiplayer format: Archenemy, where you team up to take down a boss opponent. And if one of your fellow Planeswalkers drops out, no problem–the AI will drop in for uninterrupted action! Featuring ten unique decks, Duels of the Planeswalkers 2012 also lets you customize those decks. As you progress in the game, you can enhance your deck by swapping in new, unlockable cards! Gather your allies. A challenge awaits.