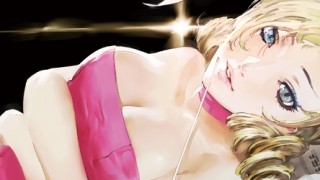 Atlus has released the latest trailer for their mind-bending "love adventure," Catherine, and it focuses on the game's "hero," Vincent.
"Vincent is very far from the typical video game protagonist," stated Aram Jabbari, Manager of PR and Sales at Atlus. "He is indecisive. He is unsure of where he wants his relationship with Katherine, his girlfriend, to go. Very often, he seems incapable of doing the right thing at the right time, allowing complications (the very things he is so keen to keep his life free of) to multiply. Learning more about Vincent and his motivations is the perfect way to gain a better understanding of Catherine's core philosophy and narrative themes."
Sounds rough. And that's before the psychotic sheep show up. That's right, psychotic sheep. Check out the trailer on Atlus' YouTube page. Catherine will be released for the PS3 and Xbox 360 on July 26.