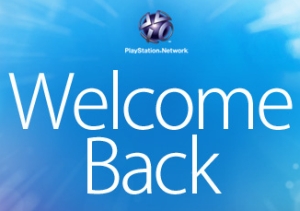 After fully restoring the PlayStation Store on June 1st, the only thing left for Sony to put the PlayStation Network outage completely behind them is their promised "Welcome Back" program. Yes, after 45 days, the PSN debacle is finally over.
Today, the program was put into affect and gamers will be able to obtain all of their "Welcome Back" items including:
Two PlayStation 3 Games From this List:
Dead Nation
inFAMOUS
LittleBigPlanet
Super Stardust HD
Wipeout HD + Fury
Two PSP Games From this List:
LittleBigPlanet
ModNation Racers
Pursuit Force
Killzone Liberation
PSN users will receive 100 virtual items for free in PlayStation Home.
A selection of "On Us" movie rentals this weekend only, where video services are available.
For PlayStation Plus subscribers, an additional 60 days of subscription time. Non-PlayStation Plus subscribers will receive a free 30-day subscription to try out the "free games and discounts" service.
Finally, Music Unlimited Premium subscribers will receive an additional 30 days of subscription time plus days lost due to the outage.