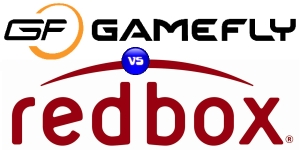 With the weekend upon us, gamers everywhere are looking for a new title to spend their free time with. But for those of us who try to limit our game purchases, a new player has emerged to offer the latest and greatest games for rent. Redbox added video games to their self-serve kiosks a week ago and it looks like the service is off to a rousing start with consumers. But can it unseat the popular rent-by-mail service Gamefly as the king of game rentals? Well, that's what we're going to find out:
Price
Gamefly has a two-tiered pricing structure where $15.95 a month gets you in the unlimited "1 Game" plan. For $22.95 a month, you can upgrade to the unlimited "2 Game" plan. Plans are also available to rent three and four games at a time. Rented games can be kept by paying an additional charge (a $60 game can be routinely be kept for an additional $50 payment). Redbox charges $2 per day per game (movies can be rented for $1, so games carry a bit of a premium) and users can keep the game after 30 days (after they've accumulated $60 in total rental fees).
Gamefly is obviously cheaper on the surface, as the "1 Game" plan costs the same as an eight-day Redbox rental. But Gamefly's turnaround time (about four days) is also something to consider. If you rent and return three games a month from Gamefly, there's a very real chance you'll spend at least 12 days without a game at all.
Selection
Gamefly boasts over 7,000 titles in their inventory, while Redbox launched their game rental service with just 41 titles last week.
Once again, Gamefly is the clear winner. However, a good portion of that number is made up of titles from retired systems such as the PS2, GameCube, Xbox and Game Boy Advance. The number of current generation selections is still much greater at Gamefly than at Redbox (raise your hand if you own more than 41 games), but Redbox has done a good job of selecting the best of the best for their initial rollout.
However, you don't have to look very far to see the limitations of the little red kiosks. Yes, they carry all of the latest top tier releases like Portal 2, Mortal Kombat and Duke Nukem Forever, but a lot of the second tier stuff like Alice: Madness Returns, Shadows of the Damned and FEAR 3 are nowhere to be seen. And because the machine's mechanism can't handle mutli-disc games, a big title like L.A. Noire for the Xbox 360 is unavailable.
Availability
Here's where Redbox shows its mettle, because Gamefly users are at the mercy of their GameQ, the list of titles they would like to rent. Ultimately, Gamefly has the final say in what the postman will deliver in that white-and-orange envelope. The user can only make their list and hope Gamefly chooses to send them the game they really want (even if it's the top game on their list). Meanwhile, Redbox offers real-time inventory tracking for all of their kiosks online. So it's trivial to call up their website, search for Duke Nukem Forever, and reserve it at any one of a dozen local kiosks.
Convenience
You might ask yourself, what could be more convenient than having your rentals delivered right to your door? How about walking over to the grocery store on your lunch hour and coming away with the exact game you wanted without enduring Gamefly's ridiculous turnaround times and sometimes baffling GameQ selection process?
You might also be surprised that I'm suggesting everyone has a Redbox kiosk within walking distance, but it's apparently true. The company has 27,000 kiosks spread across the country, putting at least a dozen within five miles of nearly any point on the map. How ubiquitous are the big red machines? There are 27,000 Redbox kiosks, but only about 15,000 Starbucks locations (which, as we all know, stretches to the end of the universe).
Used Games
With so many Redbox kiosks out there, the one thing they'll do is increase the number of used games out there. If history is any guide, Redbox will sell their older games back to the distributor who will then turn around and offer these titles for sale in the same grocery stores that house the Redbox kiosks.
Gamefly sells used games as well, and the company's seasonal sales usually can't be beat, but there's something I like about the instant gratification that goes with buying a used game and being able to pop it right in my system.
So… Redbox?… or Gamefly?
Sadly, there's no clear-cut winner in the battle of Redbox versus Gamefly. They both have their strengths and weaknesses. If money were no object, having a Gamefly subscription supplemented with Redbox rentals of games you wanted to play RIGHT NOW would be the ideal solution. But that's silly. However, if I have to play Judge Judy and executioner, my verdict would come down on the side of Redbox.
If you mainly play big new releases like Brink, Infamous 2 or Call of Duty: Black Ops, a Redbox kiosk will be more likely to have the game you want on the day you want it. And, unlike Gamefly's rather sketchy selection process, getting the game you want is guaranteed. Gamefly is the better choice only if you need their deeper catalog and you have a "must play" list of at least a dozen titles. The service's GameQ selection process is too much of a crapshoot otherwise.