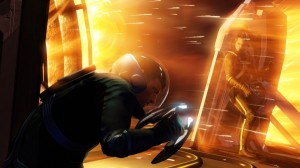 Since the success of J.J. Abrams' take on Star Trek, there's been a couple game outings utilizing the license, but nothing like this.
Paramount Digital Entertainment has announced the co-op, action adventure Star Trek, featuring an original, stand-alone story. God of War writer and BAFTA award winner Marianne Krawczyk has teamed up with Bob Orci and Alex Kurtzman, writers and producers of the current Star Trek films, to tell a new story of Spock and Kirk, working together "to stop a legendary enemy race bent on conquering the galaxy." The game is under development at Digital Extremes, known for the Unreal series and the upcoming The Darkness II, with an offering that "challenges the boundaries of co-op gameplay."
With bold claims and enticing promises, Star Trek will release on PC, Xbox 360, and PlayStation 3 in Summer 2012. Paramount will unveil more details about the game at next week's E3 Expo.