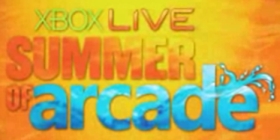 Microsoft has announced they're bringing back the Summer of Arcade for a fourth go around this Summer.
Beginning July 20th, the promotion will last for five weeks and feature five of the biggest Xbox Live Arcade games in development. The full lineup includes:
Toy Soldiers: Cold War, the sequel to the popular Toy Soldiers, but now with a "G.I. Joe" twist
Insanely Twisted Shadow Planet, a side-scroller that reminds me a little of last year's Limbo with a UFO
Fruit Ninja Kinect, the popular iPhone game comes to the Xbox 360 and your whole body becomes a slicing and dicing machine
Bastion, an action RPG that really impressed us at this year's PAX East.
From Dust, a god game from the creator of Out of This World
Microsoft hasn't nailed down the Summer of Arcade release schedule yet, so nobody knows what order the games will be released in just yet. Hit the jump for more details on all the games and be sure to check out the Summer of Arcade E3 trailer at Xbox.com.
Toy Soldiers: Cold War (Signal Studios/Microsoft Studios): Jump into the fray with playful '80s combat action in Toy Soldiers: Cold War. Bring your favorite action toys to life and wage war against the red menace. Need backup? Call in a friend for co-op campaign action on the couch or over Xbox Live. Take a break from the main battle with Survival mode and playful minigames. When you beat your Live friends' scores, they'll be gunning to reclaim the top spot!
Insanely Twisted Shadow Planet (Fuelcell/Microsoft Studios): This side-scrolling, 2-D, action-adventure game takes players on a journey through the curious Shadow Planet worlds, unique environments filled with twisted life, surreal ecologies, hostile creatures and environmental hazards. Players explore the depths of several interconnected themed areas, fighting swarms of enemies, battling bosses, solving mind-bending puzzles and acquiring power-ups to unlock new parts of the map.
Fruit Ninja Kinect (Halfbrick/Microsoft Studios): The worldwide gaming phenomenon Fruit Ninja is now coming to Kinect for Xbox 360 in its juiciest form yet — YOU are the ninja! Your arms are now blades, and the battle against the world's most delicious produce is just beginning. Fruit Ninja Kinect is an amazing evolution of the slice-em-up genre created by Halfbrick, utilizing next-generation precision power for the juiciest combat ever!
Bastion (Supergiant Games/Warner Bros. Interactive Entertainment): Bastion is an action role-playing experience that redefines storytelling in games, with a reactive narrator who marks your every move. Explore more than 40 lush hand-painted environments as you discover the secrets of the Calamity, a surreal catastrophe that shattered the world to pieces. Wield a huge arsenal of upgradeable weapons and battle savage beasts adapted to their new habitat. Finish the main story to unlock New Game Plus mode and continue your journey!
From Dust (Ubisoft Montpellier/Ubisoft): Discover a unique Modern God game in which nature is the star. From Dust is the latest original concept by Eric Chahi, visionary creator of Another World. Behold the beauty of a primitive world pulsing with life and face the might of nature. Beware the danger of a world that is constantly changing under your command. Control the destiny of a tribe struggling to survive and help it recover its ancestors' lost powers. Immerse yourself in a world as exotically beautiful as it is dangerous. A universe where nature reclaims what is hers and you are your people's only chance of survival.