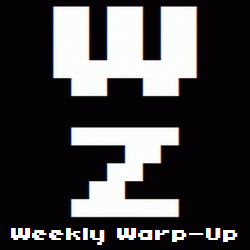 No, that's not a typo. Welcome to the Weekly Warp-Up, your weekly wrap-up of the biggest and the best articles posted at Warp Zoned this week…
E3 is tomorrow! Have you brushed up on all the latest E3 happenings? Check out Warp Zoned's E3 Central for all the latest news, including everything from the past week!
Get Warp Zoned!
Do you have a Nook or other type of eReader, then check out the first issue of Warp Zoned: The eMagazine. You'll be glad you did.
We flipped the calendar this week so that means the latest Warpback column on What We Played in May 2011 is now available as is The Games of June 2011. Speaking of the games of June, we also had a chance to deliver a Hands-On Preview for Square Enix's upcoming Dungeon Siege III .
Hit the jump for the rest of the Weekly Warp-Up.
The Week in Reviews…
The Week in New Games…
Amazing Paperboy Delivers…
It's a Secret to Everybody…
And Finally…
Volume 1 of the Portal 2 soundtrack is now available as a free download. Download it! For science!