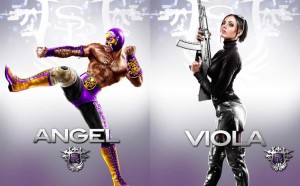 It sounds like the beginnings of a bad joke, doesn't it? And yet, that is the perfect description of the newly announced voice cast for THQ's Saints Row: The Third.
Daniel Dae Kim, known to Saints Row fans everywhere as the voice of Johnny Gat, will reprise his role in The Third. In the new game, Gat has become "the face of high class crime," which is a far cry from Kim's appearances as Jin on "Lost" and Chin Ho on "Hawaii Five-0."
The wrestler is none other than Hulk Hogan. The Hulkster will fill the (thankfully) yellow boots of Angel De LaMuerte, a legendary professional wrestler. According to THQ, Angel was "betrayed by his former tag-team partner Killbane, now the merciless leader of the Lucadores street gang." To exact his revenge, he teams up with the Saints.
Finally, the porn star is none other than Sasha Grey. Surprisingly, the "Entourage" star won't be playing a porn star (THQ refers to her as just "Actress Sasha Grey" in the press release). Instead, she'll lend her voice to Viola DeWynter, the mastermind behind The Syndicate's financial empire.
So anyway. A cop, a wrestler and a porn star walk into a bar and the bartender says…