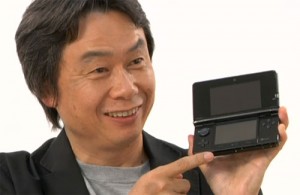 Just this morning, Amazon.com posted an "Item Under Review" update to the Cosmo Black Nintendo 3DS. While this jumps out as the possible massive health epidemic that The Sun has been praying for and Nintendo President & CEO Satoru Iwata has been dismissing, it's most likely just some kind of minor defect with Amazon's stock. The Aqua Blue model is still available, which suggests this may just be relegated to the Cosmo Black units and not a health problem with glasses-less 3D in general. The update states:
While this item is available from other marketplace sellers on this page, it is not currently offered by Amazon.com because customers have told us there may be something wrong with our inventory of the item, the way we are shipping it, or the way it's described here. (Thanks for the tip!)

We're working to fix the problem as quickly as possible.
So if you're an Amazon buyer who absolutely wants the black model, just give 'em a few hours and hopefully this will be resolved!
UPDATE: Whatever problem Amazon found with the Cosmo Black 3DS has been fixed. The handheld is available for sale once again.