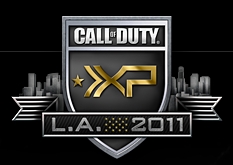 The Call of Duty franchise is Activision's billion-dollar baby and it'll be celebrated this September in the very first CoD "fan experience." Call of Duty XP 2011 will be held on Labor Day Weekend, September 2nd and 3rd, in Los Angeles. For two days, the festival will immerse 6,000 fans in all things Call of Duty, including an announcement of the full feature for Call of Duty Elite and the world premiere of Call of Duty: Modern Warfare 3's multiplayer mode.
"From the high production values of our live, immersive events – all the way to the smallest details in every design and activity – we're pulling out all the stops to make Call of Duty XP the ultimate gathering for the global community of Call of Duty fans," said Eric Hirshberg, CEO of Activision Publishing. "The celebration will immerse attendees in a Call of Duty experience unlike anything they've ever seen before. Over the course of two days, gamers can trade Call of Duty war stories, experience the official unveiling of Call of Duty: Modern Warfare 3 multiplayer and the full feature functionality of Call of Duty Elite, as well as enjoy world-class entertainment and compete head-to-head for some serious cash prizes."
Attendees at Call of Duty XP 2011 will experience a ton of other exciting events as well:
$1 million Call of Duty: Black Ops tournament
Discussion panels and Q&A with Call of Duty developers
Onsite Call of Duty armory and museum
Paintball matches on a life-sized Call of Duty multiplayer map
Speed-run attempts for Call of Duty: Modern Warfare 2's legendary "The Pit"
More attractions to be announced
Tickets for Call of Duty XP 2011 will be available July 19 for $150 apiece. All proceeds will benefit The Call of Duty Endowment, Activision's organization that helps soldiers transition to civilian life.