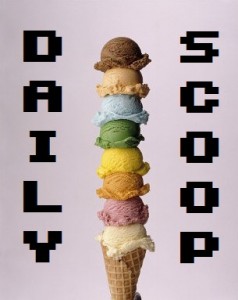 I received an e-mail late last night saying that my copy of A Dance with Dragons has been delayed due to an inventory shift. Really, Amazon? Really? Because I pre-ordered that thing like five years ago. You couldn't bump someone else's pre-order? Has the HBO series really upped the popularity so much that you can't cater to the superfans? I am disappointed.
Anyway, Amazon's Deal of the Day in video games is Nintendo's FlingSmash with the black Wii Remote Plus for $29.99. And, not to be bested by Best Buy's buy two, get one free sale, Amazon is also having their own buy two, get one free sale – and there are some good games here. If you haven't picked up Ocarina of Time 3D or Portal 2, now's your chance!
No gaming t-shirts today, but I'm sure our Editor-in-Cheif, John Scalzo, will be buying today's Ript shirt:

Gimme some sugar, baby.