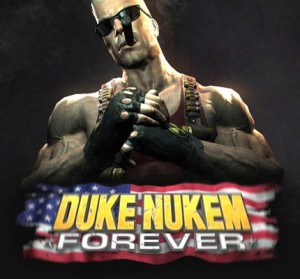 Duke Nukem Forever gives players the option to fish a turd out of the toilet bowl and smear it all over the walls of the game world. So it seems rather fitting that Duke's latest adventure has landed in the #2 spot in The NPD Group's list of bestselling games for the month of June. The Mighty Duke was toppled by Rockstar's L.A. Noire; the detective yarn is celebrating its second straight month at the top after it lead the May NPD report as well.
A trio of other June releases also earned their way into the top ten. Sony's InFamous 2 took the #3 spot, The Legend of Zelda: Ocarina of Time 3D hookshotted its way into #5 and Cars 2 stopped for gas at #9.
You can find the full top ten after the break.
1. L.A. Noire (Xbox 360, PS3)
2. Duke Nukem Forever (Xbox 360, PS3, PC)
3. InFamous 2 (PS3)
4. Lego Pirates of the Caribbean (Wii, Xbox 360, DS, PS3, 3DS, PSP, PC)
5. The Legend of Zelda: Ocarina of Time 3D (3DS)
6. Call of Duty: Black Ops (Xbox 360, PS3, Wii, DS, PC)
7. NBA 2K11 (Xbox 360, PS3, Wii, PS2, PSP, PC)
8. Mortal Kombat (PS3, Xbox 360)
9. Cars 2 (DS, Wii, Xbox 360, PS3, PC)
10. Just Dance 2 (Wii)