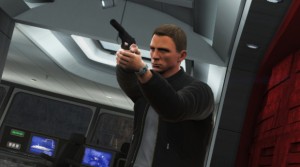 Activision confirmed a new 007 title was in the works for 2011 during a quarterly financial call last May, then registered a bunch of Goldeneye-related domains last month. Now, the revelation of the next James Bond game is mere days away.
Destructoid reports getting an invite to an Activision event at San Diego Comic-Con on July 20 where several titles will be shown off, including Prototype 2, X-Men: Destiny, Spider-Man: Edge of Time (that's a lot of superhero games!) as well as "a new 007 title."
Activision hasn't done nearly as well as EA in creating games under the license, but hopefully that will change. What kind of Bond title do you want to see? Another GoldenEye? The long-rumored Raven Software third person shooter? None at all? Let us know in the comments.