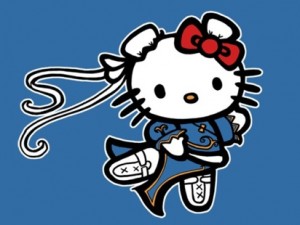 Yeah, you read that right. There's going to be Street Fighter/Hello Kitty merchandise starting Fall 2012, thanks to a new partnership between Capcom and Sanrio. This is an excellent choice of a mashup – bringing together the cute and cuddly with the muscley and violent.
Capcom's Director of Licensing, Joshua Izzo, said, ""Capcom has long admired Sanrio and their ability to create memorable and cherished lifestyle brands so it is a distinct pleasure to partner with them for this new cross-over line of merchandise. The combination of Street Fighter and Hello Kitty will offer fans a whole new way to experience our characters."
Sanrio seems equally excited. The Vice President of Brand Management and Marketing, Jill Koch, said, "We are always looking for new ways to surprise our fans and partnering with a strong brand-focused company such as Capcom is a natural fit for us. Hello Kitty and Street Fighter have a dedicated core following around the world and our collaboration brings the legacy of both brands together in a fun and unexpected way."
This is almost as cool as the Vocaloid/Hello Kitty mashup… almost. Hit the jump to see how ridiculously cute that is.