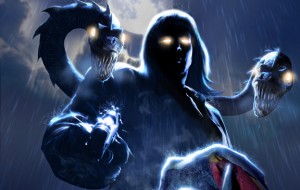 Jackie Estacado returns with the Darkness at his back… on his back? Maybe it is that the Darkness has his back…
First, the bads news. 2K Games has delayed the release of The Darkness II. Previously scheduled to ship to stores in October, the PC, PS3, and Xbox 360 game will now be released on February 7, 2012.
Anyway, 2K is celebrating 15 years of The Darkness comics at Comic-Con this year. They will be co-hosting a special panel called "Spreading The Darkness: From Comic Book to Video Games and Entertainment" featuring Marc Silvestri (co-creator of The Darkness) and Mike Patton (the in-game voice of The Darkness) amongst other talented people from Top Cow Productions.
2K also plans to have 8 playable demos of The Darkness II up and running for your enjoyment at the Top Cow booth. You will get to experience first hand what they are calling Quad-Wielding. Now you can use those two extra demon arms to maim and dismember some poor schmoes while your hands remain free to perpetrate mayhem with heavy ordinance.
It is nice to see a video game respecting the source material enough to emulate it in style and spirit. It won't be October, but you'll get a chance to wield those extra demon arms you always wanted soon.