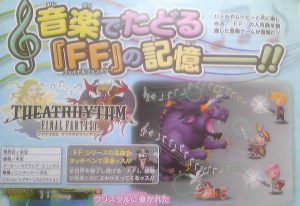 Square Enix announced Theatrhythm Final Fantasy in the latest Jump magazine, a Theater Rhythm Action game for the Nintendo 3DS. Andriasang reports the game will look a lot like your traditional RPG – with towns, dungeons, and a separate battle screen, but the gameplay takes the form of a rhythm game, tapping your stylus as you're prompted to do so.
The premise appears to be Kingdom Hearts and Dissidia-esque, as characters from various Final Fantasy universes are pulled together to restore light to a crystal. Lightning, Cloud Strife, and an Onion Knight can all be seen fighting a Behemoth in the picture above, who does not look to be having a good time. The artwork is very similar to Kingdom Hearts Mobile. On the bright side, it appears music from the various Final Fantasy games will play a role in the title.
Other than a release date, only one question remains: why?