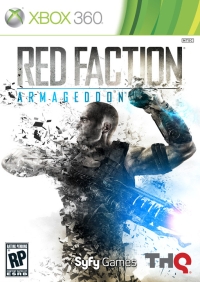 THQ (and their Vice President of "Core Games" Danny Bilson) have discussed the company's dedication to bigtime franchises many times in the past. Sadly, it looks like that number was reduced by one yesterday.
During the company's quarterly financial presentation, THQ CEO Brian Farrell revealed that the Red Faction franchise has become too much of a niche title to continue. This is hot on the heels of the June debuts of Red Faction: Armageddon and the Syfy movie Red Faction: Origins.
"Given that [the Red Faction franchise], now in two successive versions, has just found a niche, we do not intend to carry forward with that franchise in any meaningful way," Farrell said.
But don't feel too bad for developer Volition. They've got their hands full with Saints Row: The Third (which will be available this November) and Guillermo del Toro's Insane trilogy.