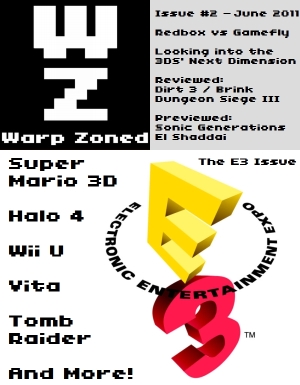 June is over, Summer is here and so is the second issue of Warp Zoned: The eMagazine. So fire up your eReader and prepare to take your favorite WZ writers on a road trip!
Warp Zoned: The eMagazine
Issue #2 – June 2011
Download It in EPUB Format Here
In June we got to see the wonders of E3 including the Press Conferences from all three major players (Microsoft, Sony, Nintendo). Besides looking to the future at the E3 Expo, we looked at the future of game rentals in a Redbox vs Gamefly comparison and we also glimpsed a look at the future of the 3DS.
But that doesn't mean we forgot the here and now as we got our hands on El Shaddai: Ascension of the Metatron and Sonic Generations as well as reviewing Dirt 3, Sega Rally Online Arcade, Brink and Dungeon Siege III.
Next issue, prepare yourself for an alien invasion in Earth Defense Force: Insect Armageddon.