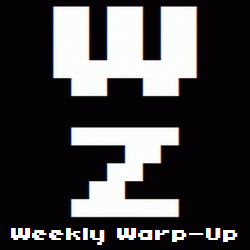 No, that's not a typo. Welcome to the Weekly Warp-Up, your weekly wrap-up of the biggest and the best articles posted at Warp Zoned this week…
Today was a good week to be a gamer as the Supreme Court struck down the California anti-game bill. It wasn't so good a week for Jon Stewart as his favorite target retired and then he went on an old man rant about them evul viddygames.
Get Warp Zoned!
Besides an argument over the future of the "violent video game" debate, this week was also a general look into the future. We took a stab at predicting the future of the 3DS in Nintendo's 3DS: Looking Into the Next Dimension and we spun into Sonic's future with a hands-on preview of Sonic Generations.
With the end of June in sight, we also published the latest edition of Warpback, better known as "What We Played in June 2011." Naturally, this was followed up by our report detailing The Games of July 2011.
Finally, on Episode 12 of the Warp Zoned Podcast, Senior Editor Nicole Kline and Podcast Producer Ryan Littlefield are joined by West Coast Editor Adam Woolcott. They talk about the latest news (what's up with Nintendo's refusal to localize games we are dying to play???) and then move into our big topic: game reboots.
Hit the jump for the rest of the Weekly Warp-Up.
The Week in Reviews…
The Week in New Games…
Amazing Paperboy Delivers…
It's a Secret to Everybody…
And Finally…
Issue #2 of Warp Zoned: The eMagazine is now ready to download. Load it up on your eReader and take it to the beach this holiday weekend.
Happy 4th everybody!