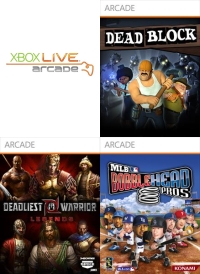 As the 2011 Summer of Arcade approaches, Microsoft has opened the Xbox Live Arcade floodgates and added three titles to the service today.
Dead Block goes all Night of the Living Dead on us as three survivors are trapped in a house with the zombie horde banging on the door. But instead of shooting their way out, this trio must barricade themselves inside and set traps for the unstoppable undead.
Deadliest Warrior: Legends is the sequel to last year's XBLA fighting game and features a new assortment of historical personages battling it out for historical bragging rights. Dracula versus Braveheart, why didn't I think of that?
Finally, Konami brings their cartoony take on the national pasttime, MLB Bobblehead Pros, to the XBLA just in time for next week's All-Star Game.
All three games have been priced at 800 Microsoft Points ($10) and more information on each title can be found after the break.
Dead Block
Developer: Candygun Games
Publisher: Namco Bandai Games America
Are you clever enough to survive a Zombie Armageddon? Don't panic! Use your brain first and, if necessary, your sledgehammer. In the '50s Rock'n'Roll music was spawned straight from hell and was so evil that it turned dead people into Zombies! Three survivors – Jack Foster, a construction worker, Foxy Jones, a traffic warden, and Mike Bacon, a perpetually hungry boy scout – have formed an unlikely alliance to protect themselves from the invading undead. Hiding in abandoned buildings, they build blockades, set traps and – as a last resort – use weapons to fight the Zombies. Outlive the Zombie invasion alone or fight with your friends in split-screen cooperative mode.
Deadliest Warrior: Legends
Developer: Pipeworks
Publisher: 345 Games / Spike Games
Deadliest Warrior: Legends is the highly anticipated sequel to last summer's top selling game. Take control of history's greatest warriors and face the likes of Alexander the Great, Attila the Hun, Genghis Khan, Hannibal, Hernan Cortes, Shaka Zulu, Sun Tzu, Vlad the Impaler and William Wallace. With enhanced graphics and 9 arenas, new fighting options like grapples, pushes, ring outs, feints, projectile targeting, and new final strikes will expand your tactical options! Also included, a new strategy game called Generals!
Players take control of the Battlefield Simulator from the TV show and play 1 of the 9 legendary warrior campaigns and unlock abilities that the actual warriors used to get an edge in battle. The game includes exclusive avatar costumes and helmets. Owners of the original game receive a bonus weapon for every character! New Zombie and Slice modes can be played independently or together, with a hidden character to battle against!
MLB Bobblehead Pros
Developer: Konami
Publisher: Konami
Step into the batter's box with MLB Bobblehead Pros and swing for the fences! No longer do you have to show up on gameday to get your favorite player's bobblehead doll. Now you can access all your favorite bobblehead dolls in one location! MLB Bobblehead Pros is packed with all the teams, players, and fanfare of Major League Baseball ready for you and your friends with co-op mode and online battle mode. Now you can bob your head in the big leagues!