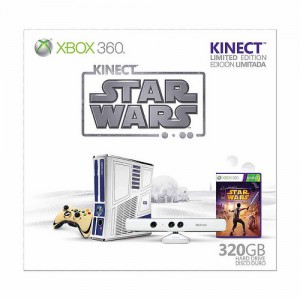 To celebrate the launch of the ambitious Kinect Star Wars, Microsoft is preparing a limited console bundle to go with it. Featured left, the Kinect sensor, controller, and Xbox 360 console are all custom tailored after everyone's favorite droids, R2-D2 and C-3PO, including special "power on" and "tray eject" sounds for the system. The bundle also includes a headset and a 320 GB hard drive.
You'll get a nice share of software to go with it, including the Kinect Star Wars game, the Podracing mode thereof, Kinect Adventures, and a limited edition Star Wars theme. The Xbox 360 Limited Star Wars Kinect Bundle retails for $449.99 and will be available day and date with Kinect Star Wars when it launches this holiday season.
The bundle is ironically coming out the same year that the Star Wars films are being released on Blu-ray.