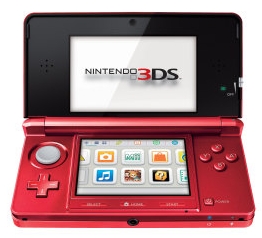 It's a red letter day for Nintendo as the publisher has announced that the 3DS will be available in a new color next month. Dubbed "Flame Red," the two-toned color scheme features a bright red bottom half with the top covered in a deep black.
"Nintendo 3DS is poised to be on fire for the holidays, with its new suggested retail price, great games and our new Flame Red color," said Nintendo of America President Reggie Fils-Aime. "With major upcoming releases in the Star Fox, Pokémon and Mario series, in addition to downloadable offerings from Nintendo eShop, Nintendo Video and Netflix, the system offers new and fun experiences to owners on a daily basis."
The Flame Red 3DS will be available on September 9, alongside the release of Star Fox 64 3D, at the handheld's new $169.99 price.