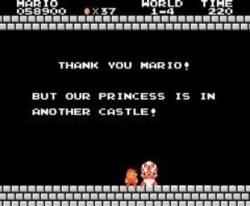 Think about that. Nine times out of ten… Bowser gets to run off with the Princess, Mother Brain rules the galaxy, we never discover the cake is a lie and the terrorists win.
In a special report on CNN, game journalist Blake Snow attempted to find the root cause of why 90% of games go unfinished.
"What I've been told as a blanket expectation is that 90% of players who start your game will never see the end of it unless they watch a clip on YouTube," says Keith Fuller, a longtime production contractor for Activision.
Believe it or not, that number was never very high as ten years ago only 20% of so-called "hardcore" gamers would finish a given game, according to John Lee, VP of marketing at Raptr and former executive at Capcom, THQ and Sega.
So why aren't we finishing these games? Apparently, it's because we're all too damn old and have social lives and jobs and kids and chores that we didn't have when Toad would taunt us with "Our Princess is in another castle." I know I wanted to beat Bowser just to silence that smug shroom.
So what's the solution? Fuller thinks its shorter games: "They're lucky to find the time to beat a 10-hour game once or twice a month. They don't feel cheated about shorter games and will just play a longer game for as many hours as their schedule allows before moving on to another title."
So if games are getting shorter, shouldn't they be getting cheaper? Maybe that's a discussion for another time.