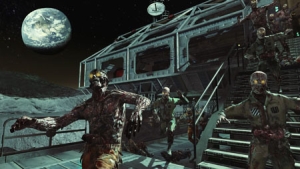 Activision has revealed that the fourth (and likely final) Call of Duty: Black Ops map pack will be available for the Xbox 360 on August 23. The pack will be known as "Resurrection" (or possibly "Rezurrection") and, as you may have guessed, will focus heavily on everyone's favorite brain eaters.
The Resurrection Map Pack will resurrect the four Call of Duty: World at War Zombies Mode maps ("Nacht der Untoten," "Verruckt," "Shi No Numa" and "Der Riese") in Black Ops. If you recall, these maps were included in the Hardened and Prestige editions of the game as a bonus download. So to sweeten the pot, Activision is including a fifth map, "Moon," along with a 20-song soundtrack and an Xbox 360 theme. And yes, "Moon" features zommmmbbbbiieeeesssss innnnnnn spaaaaacccceeeee.
Like all other CODBLOPS packs, Resurrection will be available to download for 1200 Microsoft Points ($15), but Hardened and Prestige edition owners will receive the fifth map for free.
Oh, and if history is any guide, Resurrection will be coming to the PC and PS3 a month later on September 23.