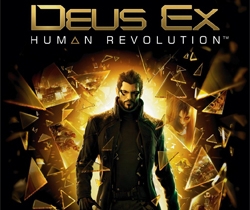 Man, they don't get much weirder than this.
Square Enix, the publisher of Deus Ex: Human Revolution, and OnLive, the cloud gaming company, recently announced a deal that the PC version of the game would include a voucher for free access to the OnLive version. Fast forward to yesterday, and we learn that GameStop executives have directed their exployees to open copies of Deus Ex and remove the OnLive coupon. This move is legally dubious at best.
The new release surgery occured because GameStop has their own game streaming service in the works. "Square Enix packed the competitor's coupon with our DXHR product without our prior knowledge and we did pull and discard these coupons," GameStop public relations representative Beth Sharum said.
Following the Internet outcry, GameStop pulled all remaining copies of the PC version of Deus Ex: Human Revolution from store shelves. GameStop planned to return all of these copies of the game to their distributor after an agreement with Square Enix.
But then Square Enix comes out and publicly announces that they're totally cool with GameStop removing the OnLive coupon from the game's box:
"As part of Deus Ex: Human Revolution's boxed offering on PC, Square Enix included a third party coupon. GameStop was not made aware of this inclusion and Square Enix respects the right of GameStop to have final say over the contents of products it sells and to adjust them where they see fit in accordance with their policies."
This story is just bizarre on all sides. GameStop's cloud gaming initiative, Spawn Labs, is still a year away. Doing battle with Square Enix by physically opening new copies of a game and removing an advertised addition is borderline criminal. We as gamers should be furious. But then Square Enix gives GameStop their blessing to do as they please with the retail copies!
And all of this is happening around a game where corporations control everything. The irony, she burns.