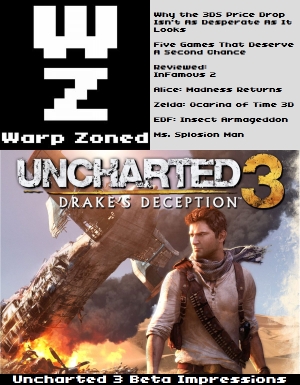 Be sure to boot up your eReader to get the latest issue of Warp Zoned: The eMagazine and read about all the fun we had in July.
Warp Zoned: The eMagazine
Issue #3 – July 2011
Download It in EPUB Format Here
July was a bit of a "catch-up" month as the staff pored over some of the Summer's biggest games including Alice: Madness Returns, Earth Defense Force: Insect Armageddon, InFamous 2 and The Legend of Zelda: Ocarina of Time 3D. To continue with the "catch-up" theme, we even took a look at "Five Games That Deserve a Second Chance." But we also took an early look at a trio of games that are sure to captivate a ton of people later this year in Catherine, Uncharted 3: Drake's Deception and the PS3-exclusive No More Heroes: Heroes' Paradise.
Game publishers are also looking to the future and none more so than Nintendo. The Big N announced a price drop for the 3DS in July and many have pegged it as a desperation move for a handheld that has the stink of a flop on it. But we examined why the 3DS price drop may not be as crazy as it looks.