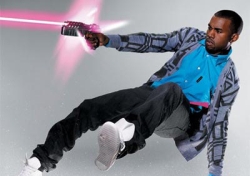 Kanye West, whose duet with Jay-Z (Watch the Throne) is this week's #1 album, will also perform the closing concert at next month's Call of Duty XP event.
"We're pulling out all the stops," said Eric Hirshberg, CEO of Activision Publishing. "We promised our attendees and fans around the world a once-in-a-lifetime experience for the first Call of Duty XP, so we're thrilled to have Kanye on board. Everything about XP will be as epic as the games themselves. Whether you're competing for one of the open slots in the $1 million [Black Ops] tournament, playing Modern Warfare 3 for the first time, dodging paintballs in a spectacular life-size recreation of Modern Warfare 2's Scrapyard level or just mingling with developers and fellow gamers, Call of Duty XP is a celebration of one of the greatest games in the world. So what better way to top it off with one of the greatest artists in the world?"
Is it too late to drop an "I'mma let you finish" in the middle of Hirshberg's comments? Call of Duty XP will held on September 2nd and 3rd in Los Angeles. Tickets are still available at CallofDuty.com/xp/tickets.