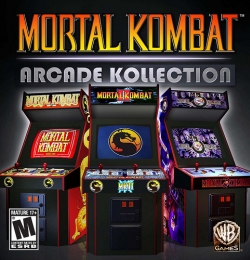 Sony's PSN Play promotion continues with The Baconing ($14.99), the latest installment in the DeathSpank saga. But Hothead's hero has been pushed aside a bit by another game available today, the Mortal Kombat Arcade Kollection ($9.99). Kompiling Mortal Kombat, Mortal Kombat II and Ultimate Mortal Kombat 3 together for the first time, the Kollection is a dream for arcade rats from the 90s.
These two titles aren't the only new additions to the PlayStation Store this week. Not by a long shot. Those looking for a new PSN game can also check out one of these five new releases:
4 Elements HD ($9.99) – A match-3 puzzler.
Ugly Americans: Apocalypseageddon ($9.99) – A twin-stick shooter featuring the stars of the Comedy Central show.
Shock Troopers ($8.99) – A run-and-gun shooter that originally appeared on the NeoGeo.
World Heroes ($8.99) – A NeoGeo fighter where you can pit Rasputin against Joan of Arc or have a Hulk Hogan ripoff battle a Bruce Lee ripoff. No Abraham Lincoln?
Elevator Action Deluxe ($9.99) – A newly reimagined version of the classic spy caper. Also includes the original Elevator Action.
Finally, PSN Plus users will receive early access to a demo of God of War: Origins Collection.
On the portable side of things, PSP owners will have a chance to download a quartet of new games including their own version of World Heroes and Shock Troopers as well as Madden NFL 12 and the wild Atlus RPG Cladun X2.
More details on all of this week's new releases and game add-ons can be found at the PlayStation.Blog.