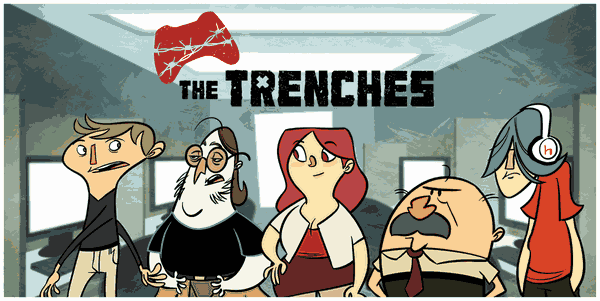 Those brilliant minds behind Penny Arcade, Jerry "Tycho" Holkins and Mike "Gabe" Krahulik, have teamed up with longtime-friend-turned-officemate, Scott Kurtz of PvP Online, to create a new comic called "The Trenches." The comic details the horrors of being a game tester, with added, anonymous commentary from a tester who has lived through it.
Having many friends who have worked or do work as testers, which they've mentioned several times in their webseries, this seems like a natural turn for the trio to take. "We've covered testing in Penny Arcade before, but the more we talked about it, the more we felt like it really deserved its own comic strip," Krahulik told Kotaku.
The Trenches will update on Tuesdays and Thursdays, and the three have balanced out all the work so their individual strips won't suffer. After so much that has come from these guys – from PAX to PATV, to their D&D Podcast and Child's Play – it's a wonder that they keep churning out more projects, all of which pulse with creative energy. But as I've said for years – if they keep bringing it, I'll keep consuming it.