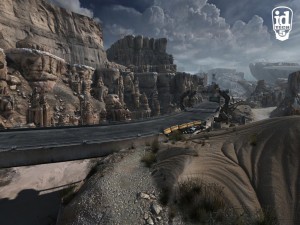 Here's a tidbit of info that will have more than a few gamers' panties in a bunch: Rage is going to have some sections only available through an Online Pass redemption code.
Players who buy the game new will have access to hidden sewer hatches, id Creative Director Tim Willits told Eurogamer in a lengthy interview.
Here's the part of the interview specifically detailing the use of the Online Pass:
Eurogamer: Everyone's messing around with Online Pass.

Tim Willits: We have the first-time buyer stuff with all the sewers. You've played Rage five times. Have you found any sewer hatches?

Eurogamer: I did, out in the Wasteland.

Tim Willits: If you bought the game new, that would be open for you. You still have to download it, but you don't have to pay for it. Those hatches are all over. Most people never find them. But as soon as you do, you're like, oh. And then you start to look for it. That's our first-time buyer incentive.

But as you can tell, most people never even see it. I can tell you, some people will buy Rage, download that, and still never set foot in those things. They just won't. I think that's fair. It's cool. It's outside the main path. We're not detracting from anything. But I know some consumers, when you can't avoid it, then you get a little touchy subject.

Eurogamer: I worry longer-term everything's just going to get broken up into chunks.

Tim Willits: I don't see that any time soon. Again, as long as you buy Rage new you get everything free. We're not taking stuff out.
Another one bites the dust. Rage is scheduled to launch October 4 for PC, PS3, and Xbox 360.