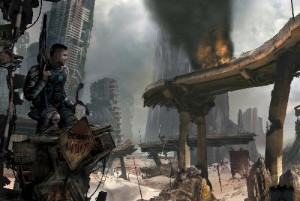 id Software Technical Director, John Carmack, dropped a bomb at Quakecon: Rage will have a 21-22 GB install on the Xbox 360. "On the 360 we don't have a partial install option; it's all or nothing, which is kind of unfortunate," Carmack said. "It means you have to install 21-22 GB of stuff which takes a long time, but if you've got it and you play it on the 360, that's the way to go."
That's a lot of hard drive space to put aside for a game. Although it makes sense when you realize Rage requires two discs for the single-player campaign and a third disc for the multiplayer modes.
The problem doesn't stop there, either – there are also latency issues on the PS3. "Once you get everything from memory that works pretty good, but if you're coming straight from the hard drive then the first time you walk into everything from the DVD or from the Blu-ray – even worse in terms of total latency time – you listen to that Blu-ray churning around as it's pulling everything in," Carmack said. "It'll be nice when we don't have that physical element we don't have to be working around or scheduling around."
No word yet on whether or not the PS3 will have an install. Hopefully there will be an option for that, or else PS3 sales will certainly suffer.
[Sources: Sixth Axis, Gaming Bolt]