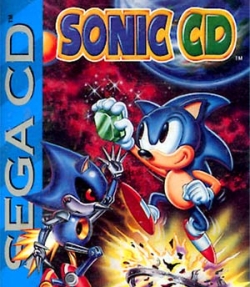 A few days after Sonic's CD adventure was inadvertently revealed by Major Nelson, Sega has officially announced that Sonic CD will be coming to the PC, PlayStation Network and Xbox Live Arcade in late 2011. The game will also be available for mobile platforms including iPhone, iPad, Windows Phone and Android.
Featuring the first appearances of Amy Rose and Metal Sonic, the Sonic CD port will include widescreen graphics, the original Japanese soundtrack, special iOS features, Achievements/Trophies and the same story every Sonic fan knows and loves:
Following the classic story of the original, Sonic CD sees Dr. Eggman plan to cause chaos and take control of the future by stealing Time Stones from the Little Planet. Sonic must speed through levels and travel through time while fending off Eggman's robots to recover the Time Stones, and save Amy Rose from his mechanical twin, Metal Sonic!
Sonic CD will make its public debut this weekend at PAX Prime. The game (actually, the XBLA version) will be available to play at the Microsoft booth.