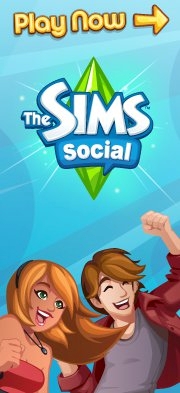 The Sims Social, a free-to-play browser game, has just gone live on Facebook and lovingly threatens to fill our news feeds with requests for odd objects and pleas for assistance with room-building. The Sims Studio and Playfish have combined their powers to create a game that has addictive life-simulation gameplay with social gaming aspects.
Players are able to create their Sims in any likeness they desire as well as customize their homes however they see fit, providing they have sufficient funds. After the initial tutorial, players are free to befriend or annoy any neighbors they add. The Sims Social enables users to share anything they do in-game and even request help from others in order to complete a task or build a piece of furniture. With the "replay" option, players will also be able to see what their friends or frenemies were doing in their homes while they were away.
If dressing up your Sim and fung shui-ing their stuff doesn't satisfy your gamer instincts, The Sims Social provides you with quests and updates in order to keep you going with plenty of activities.
You might find yourself constantly sending requests to friends for Cheese, Love, or even Fury. Rome was not built in a day, but your new room could be if three or more of your friends answer the call! Sending out gifts is the perfect way to ensure that you'll also receive Sims stuff.
Speaking of stuff, real life companies like Dunkin' Donuts, Dr. Pepper and Toyota have teamed up with Electronic Arts to feature their products in The Sims Social as actual items. These products offer your characters boosts if used and can be gifted to others once per month.
All of these items and activities are waiting for you in The Sims Social. If you're willing to forego sleep for just a few Simoleons more, check it out on Facebook!