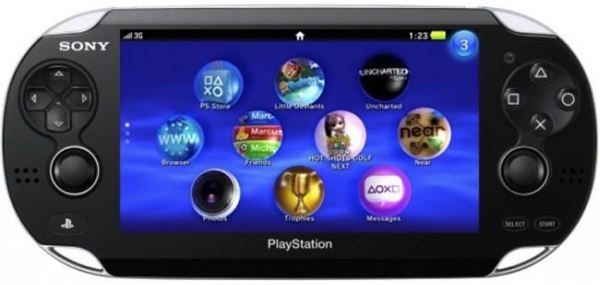 Sony has used the 2011 Gamescom expo to unveil the PlayStation Vita's official technical specifications. The beefy handheld is powered by a four core ARM Cortex-A9 processor with 512 MB of system memory and 128 MB of video RAM.
Besides revealing the "under the hood" details, Sony also confirmed that the handheld will be able to connect to Facebook, Twitter, Skype and Foursquare. These popular social networking services will be available to download as free Vita apps at the system's launch (whenever that is).
If you want to take a look at the complete technical specifications of the Vita, hit the jump.
CPU
ARM Cortex – A9 core (4 core)
GPU
SGX543MP4+
External Dimensions
Approx. 182.0 x 18.6 x 83.5mm (width x height x depth)
(tentative, excludes largest projection)
Screen (Touch Screen)
5 inches (16:9), 960 x 544, Approx. 16 million colors, OLED
Multi touch screen (capacitive type)
Rear Touch Pad
Multi touch pad (capacitive type)
Main Memory
512 MB
VRAM
128 MB
Cameras
Front camera, Rear camera
Sound
Built-in stereo speakers
Built-in microphone
Sensors
Six-axis motion sensing system (three-axis gyroscope, three-axis accelerometer)
Three-axis electronic compass
Location
Built-in GPS
Wi-Fi location service support
Keys / Switches
PlayStation button
Power button
Directional buttons (Up/Down/Right/Left)
Action buttons (Triangle, Circle, Cross, Square)
Shoulder buttons (Right/Left)
Right stick, Left stick
Start button, Select button
Volume buttons (+/-)
Slots / Ports
PlayStation Vita card slot
Memory card slot
SIM card slot
Multi-use port (for USB data communication, DC In, Audio (Stereo Out/Mono In), Serial data communication)
Headset jack
Accesory port
Power
Built-in Lithium-ion battery
AC Adapter
Wireless Communications
Mobile network connectivity (3G)
IEEE 802.11b/g/n (n = 1×1) (Wi-Fi) (Infrastructure mode/Ad-hoc mode)
Bluetooth 2.1+EDR (A2DP/AVRCP/HSP)