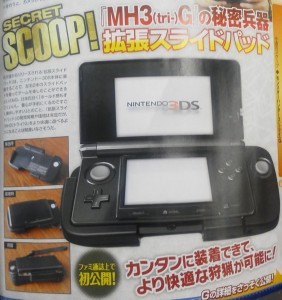 Oh Famitsu, nothing will ever stay secret with you around.
In case you missed it, Nintendo is hosting a 3DS-focused media event in Japan on September 13. One of the crazier rumors said that Nintendo planned to use the press conference to announce a 3DS peripheral that would add a second analog stick to the handheld. As you can see to your left, the pages of Famitsu, Japan's biggest gaming magazine, have revealed all once again.
The 3DS Expansion Slide Pad is actually more of a cradle and when the handheld is encased in it, the 3DS will have a second analog stick and an R2 button (but strangely, no L2 button). The cradle will also cover the game slot, so changing games will require removing the Slide Pad first.
And in case you thought this was some kind of sick joke, Nintendo UK has confirmed the Slide Pad's existence in a statement:
We can confirm that Nintendo does plan to release the attachment but that any further announcements on the attachment will be made at some later time by Nintendo.
It was obviously unspoken by Nintendo, but this peripheral likely also confirms that a redesigned 3DS incorporating the extra buttons is in the works.
[Source: Nintendo Life]