Batman: Arkham City soundtrack rocks with Panic! at the Disco, Coheed & Cambria, more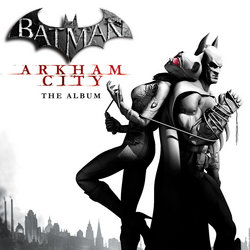 Warner Bros. Interactive Entertainment and WaterTower Music have announced that Batman: Arkham City – The Album will be available on October 4, two weeks ahead of the game's October 18 release date on the PC, PS3 and Xbox 360. The album will also be available digitally as a bonus download inlcuded with the Arkham City Collector's Edition.
Featuring music "inspired by" the highly anticipated sequel, Batman: Arkham City – The Album will include new songs from Panic! At The Disco, Coheed and Cambria, Daughtry, Black Rebel Motorcycle Club, Serj Tankian and more.
Coheed and Cambria frontman Claudio Sanchez is very excited to bring his musical storytelling to Gotham City. "I write in a very conceptual format with the stories that surround Coheed and Cambria, but Batman has a much larger, defined history and rules that go along with it. My goal was to find universal themes from Batman's existing history to help give the lyrics legs and dimension so that the song could live within that world," Sanchez said.
The full track listing can be found after the break.
1. Panic! At The Disco – "Mercenary"
2. Coheed and Cambria – "Deranged"
3. The Duke Spirit – "Creature"
4. Black Rebel Motorcycle Club – "Shadow On The Run"
5. Blaqk Audio – "Afterdark"
6. The Raveonettes – "Oh, Stranger"
7. ††† (Crosses) – "The Years"
8. The Damned Things – "Trophy Widow"
9. Daughtry – "Drown In You"
10. The Boxer Rebellion – "Losing You"
11. Serj Tankian – "Total Paranoia"
*Bonus Collector's Edition track
12. A Place to Bury Strangers – "In The Shadow"
It's Dangerous To Go Alone! Read This.
A Commenter Is You!
Related Stories From ZergNet.com