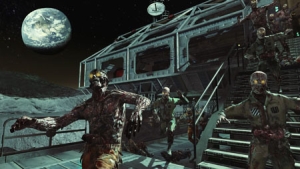 Get ready to reinfect your game system, Activision and Treyarch have announced they will release the Call of Duty: Black Ops "Rezurrection" pack for the PC and PS3 on September 22.
Coming a month after the Xbox 360 version, the PC/PS3 version will again be priced at $14.99 and include all of the same features:
Brand new "Moon" map: The first Call of Duty level to catapult players into orbit, delivers outrageous new weapons, high-tech gear and unstoppable hordes of low gravity zombie beasts, delivering the most epic, challenging and otherworldly Zombies experience yet.
The four original Zombies maps: Players can relive the nightmare of "Nacht der Untoten," escape the Zombie madness in the asylum of "Verruckt," battle back the undead Imperial Army of "Shi No Numa," and pull the plug on "Der Riese," the zombie factory that started it all.
A downloadable Call of Duty Zombies soundtrack.
A "Moon"-themed PS3 theme.
In honor of Call of Duty's one small shamble for a zombie and a giant moan for zombiekind, Treyarch will be hosting a Double XP Weekend from September 23-25.