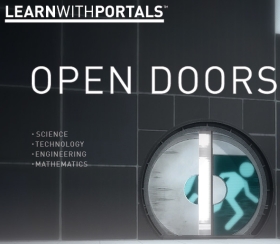 Valve has seemingly perfected the "demented schoolteacher" genre with the two Portal games. Encouraging players to look at science and puzzle-solving in new ways, they've become more than just games. And now, Valve has taking that a step further with their new Learn With Portals site.
Designed as an educational destination for teachers and students, Learn With Portals wants to make "physics, math, logic, spatial reasoning, probability, and problem-solving interesting" cool. Step one in this coolification of learning: give away a free download of Portal from now until September 20.
So teleport yourself over to Learn With Portals and download your free copy today. For Science. For Learning. For Fun.