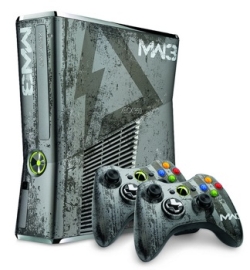 Sure, you're planning to pick up Call of Duty: Modern Warfare 3 this November. But do you plan to make your life revolve around the shooter franchise? Well, Activision is hoping that you do.
First up, they've got a special Modern Warfare 3-themed Xbox 360 system. The system will be priced at $399.99 and include a 320GB hard drive, two controllers, a Bluetooth headset, special startup and shutdown sounds and a copy of the game. The controller and the headset will both be available separately as well.
So you've got the game and you've got the system, but how do you plan to get to the store? Jeep is hoping you drive there in a 2012 Call of Duty Special Edition Wrangler. The custom four-wheeler was designed with input from Modern Warfare 3 developers. The development team also helped out with the creation of the new Mountain Dew Game Fuel Tropical flavor. Finally, every package of Doritos you purchase in October will include an offer for Double XP in Modern Warfare 3.
All of these products will be available after the game's November 8th launch. But I gotta wonder, where's the Call of Duty-branded guns?