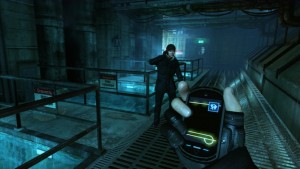 Activision has announced that James Bond will return on November 1. The superspy's greatest video game adventure will be coming to the PS3 and Xbox 360 as GoldenEye 007: Reloaded, complete with an HD coat of paint courtesy of developer Eurocom.
PS3 players will be able to take the James Bond experience further with the exclusive Double 0 Edition, which was also announced by Activision today. The Double 0 Edition will include a copy of the game, PlayStation Move motion and navigation controllers, a PlayStation Eye camera and the Sharp Shooter peripheral. The package will also include a bonus downloadable character, Hugo Drax. And yes, the supervillain behind 1979's Moonraker will be packing a Moonraker Laser.
"Working closely with Sony, we've created a great bundle that arms fans with all the vital secret agent equipment right off the shelf," said David Oxford, Executive Vice President at Activision Publishing. "We can't wait for gamers to pick up the PlayStation Move and Sharp Shooter to experience a James Bond video game like never before."
Q would approve.