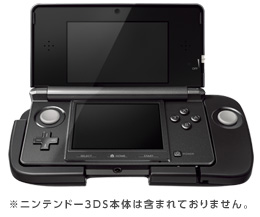 While it didn't get a mention during their 3DS Conference, Nintendo has confirmed the 3DS Slide Pad will be released in Japan on December 1. The add-on analog stick will carry a $19 pricetag by itself with a Monster Hunter Tri G bundle rumored to be available as well. An American release date and pricing have yet to be announced.
However, a quick look at the list of games that support the world's weirdest peripheral makes a Pacific crossing for the 3DS Slide Pad a very definite possibility:
Ace Combat 3D: Cross Rumble
Dynasty Warriors Vs
Kingdom Hearts 3D: Dream Drop Distance
Metal Gear Solid 3D: Snake Eater
Monster Hunter Tri G
Resident Evil Revelations
The only question is, will the 3DS Slide Pad be required to play any or all of these games or will it be optional? And if it is required, what kind of "we're sorry" program is Nintendo going to roll out then?
[Source: Kotaku]