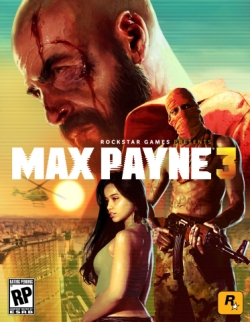 After several delays, Rockstar Games has finally announced a date for the return of everyone's favorite bullet-time dodging, inner monologue-abusing hero. Max Payne 3 is officially due out in March 2012 in North America and Europe for the Xbox 360, PlayStation 3, and PC. How serious are they this time? Check out the game's boxart on your left.
The game is set after the events of Max Payne 2, following Max as he tries to start a new life in Sao Paulo, Brazil. The story will follow Payne as he provides private security for a wealthy industrialist in this new locale. Eventually, he faces off with the local gangs when they target his client's family.
Max Payne 3 aims to change what we know and love about the Max Payne series by giving us new physics, a new game engine, realistic weaponry, a cover system, and even better bullet-time mechanics. Rockstar will also include a multiplayer mode for the first time in the series history. I'm curious to see if bullet-time actions will be present in the multiplayer and how many pills will be a-poppin' for health regeneration.
Do you still not believe? Then hit the jump for two new screenshots as well.